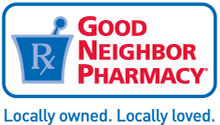 11 Center St
Tamaqua, PA 18252
(570)668-0290

11 Center Street
Tamaqua, PA 18252
(570) 668-0290

Welcome
Just a few steps south of Tamaqua's Five Point Intersection, at 11 Center Street, you will find Shafer's Pharmacy. That is no surprise to Tamaqua's long-time residents since the Shafer family has operated a pharmacy there since 1946. Shafer's Pharmacy is Tamaqua's only privately owned independent pharmacy. Here at Shafer's Pharmacy we are proud to serve Tamaqua and the surrounding area. We offer competitive prices and personal service.

A Family Business
Shafer's Pharmacy was opened in 1946 by Edward Shafer. Today his son Lee and grandson Ben take pride in the service they have provided at the pharmacy for over 70 years.



Store Location & Contact
11 Center Street
Tamaqua, PA, 18252
Phone: (570) 668-0290
Fax: (570) 668-2454

Pharmacy Hours
Monday: 9:00AM - 7:00PM
Tuesday: 9:00AM - 7:00PM
Wednesday: 9:00AM - 6:00PM
Thursday: 9:00AM - 7:00PM
Friday: 9:00AM - 6:00PM
Saturday: 9:00AM - 2:00PM
Sunday: Closed

Customers First
We offer many products and services at our pharmacy so that we can better serve our patients. From monthly blood pressure and health screenings and a wide selection products for our diabetic patients to giving out the Flu Vaccine every year, we hope to serve all our customers and the Tamaqua community.

Shafer's Pharmacy Tamaqua PA