Customer Reviews
"The pharmacists and entire staff have always been knowledgeable, helpful, honest, patient and seem to genuinely care for your health and well being." -- Facebook Review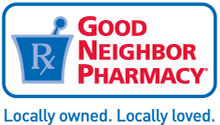 11 Center St
Tamaqua, PA 18252
(570)668-0290

11 Center Street
Tamaqua, PA 18252
(570) 668-0290

About Us
Welcome to Shafer's Pharmacy. As part of the Good Neighbor Pharmacy network, we offer quality products at affordable prices, while providing the personalized attention and customer service you expect from a local business. As your neighbors, we live, work and play in the same community as you and your family. We believe it is our responsibility to take care of our community and our neighbors, and it's one we take very seriously. We thrive on the opportunity to serve you and your family to the best of our abilities because your business and your health are very important to us.

Home Delivery
We offer free home delivery of prescription medications to our customers in the town of Tamaqua on weekdays.

Insurance
We accept most major insurances including Medicare. We accept all major credit cards, personal checks, and cash.

Vitamin Sale
Save 50% on Good Neighbor Pharmacy vitamins for the entire month of January. Stop in and save today!

Customer Reviews
What are our customers saying about the service here at Shafer's Pharmacy?

"The pharmacists and entire staff have always been knowledgeable, helpful, honest, patient and seem to genuinely care for your health and well being." -- Facebook Review

"Best home town pharmacy. Fast and pleasant service." -- Google Review

"Very pleased with this place and highly recommend it." -- Google Review

"Five Stars and more!" -- Google Review

HIPAA notice of Privacy

At Shafer's Pharmacy we want to protect the private healthcare information of our patients. We use the information you provide us with only to provide you with the necessary healthcare services and products that you require. You can click HERE to download a copy of our privacy policy in Microsoft Word format, or stop in at the Pharmacy to request a printed copy of our full policy.

Shafer's Pharmacy Tamaqua PA