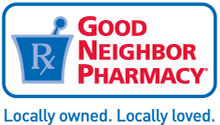 11 Center St
Tamaqua, PA 18252
(570)668-0290

11 Center Street
Tamaqua, PA 18252
(570) 668-0290

Download the My GNP mobile app for your phone.
Care and Convenience, Wherever You Go.
Use the mobile app to view our monthly GNP circular.
Get product information, a medication guide and health news.
Order prescription refills from your smartphone.
Available for iPhone and Android devices.

Good Neighbor Pharmacy Products
We offer Good Neighbor Pharmacy products as an inexpensive alternative to brand-name items. We carry a full line of products to save our customers money while providing them with a quality product that is comparable to many nationally advertised brands.


Hot Price Specials

Every month we feature hot price specials on many brand name and generic over the counter products for great savings.
Check out just a few of these great deals below, or check our sale circular at MyGNP.com.


Shafer's Pharmacy Tamaqua PA